Overview of Dizin Ski resort
Dizin ski resort – located in Karaj city, Alborz province – is the most important ski resort in the Middle East. Dizin ski resort was the first ski resort in Iran to be recognized by the International Ski Federation (FIS) as approved for official tournaments. Dizin is located in the mountains of Alborz, at a distance of 123 km from Chalus Road, 74 km from Karaj, and 71 km from Shemshak Road, and it has significant sports facilities. The skiable area is 470 ha, and the average snow depth is between 2 and 6 meters. The iran ski season in Dizin is from early December to late May. The amenities of this track in terms of the development of the area include 2 hotels, 19 cottages, and 5 restaurants. The weather is very suitable in winter, with a lot of sunny days, and it has the most pleasant summer weather (+20 C). Plenty of facilities and convenient access has made Dizin a winter tourist destination of choice and quality in the Middle East. Here you can find highly fine powder snow since Dizin is drier than her European counterparts. Due to the high number of sunny days, Dizin is an excellent choice for holidays. The facilities include Parking, lodging, restaurants, cafes, equipment rentals, ski schools, and childcare.
Parking
Depending on which road you take for going to Dizin, there are 2 parking lots available:
Upper Parking Lot: Open 7:00am to 5:00pm
Lower Parking Lot: Open 24 hours
Lodging dizin ski resort
The lodging facilities include chalets and 3 hotels. Rates for Hotel Dizin 1 and 2, which have 44 and 83 rooms, respectively, are as follows:
The rates are per night per room and include all taxes.
Preview of Gajereh Hotel in Dizin Ski Resort
Hotel Dizin 1 and 2 are within walking distance to ski lifts. Gajareh Hotel is 3 km away from the lifts. With 112 rooms, 8 suits, and 12 apartments, it provides quality residential services. Hotel Dizin ski resort prices are as follows:
The rates are per night per room and include all taxes.
Chalets are also within walking distance to ski lifts. There are 19 chalets and Dizin ski resort prices for the chalets (USD), based on the type of the room, are as follows:
The rates are per night per chalet and include all taxes.
Dizin Ski Resort Map
Here through the Dizin ski resort map, you can find its roots and facilities;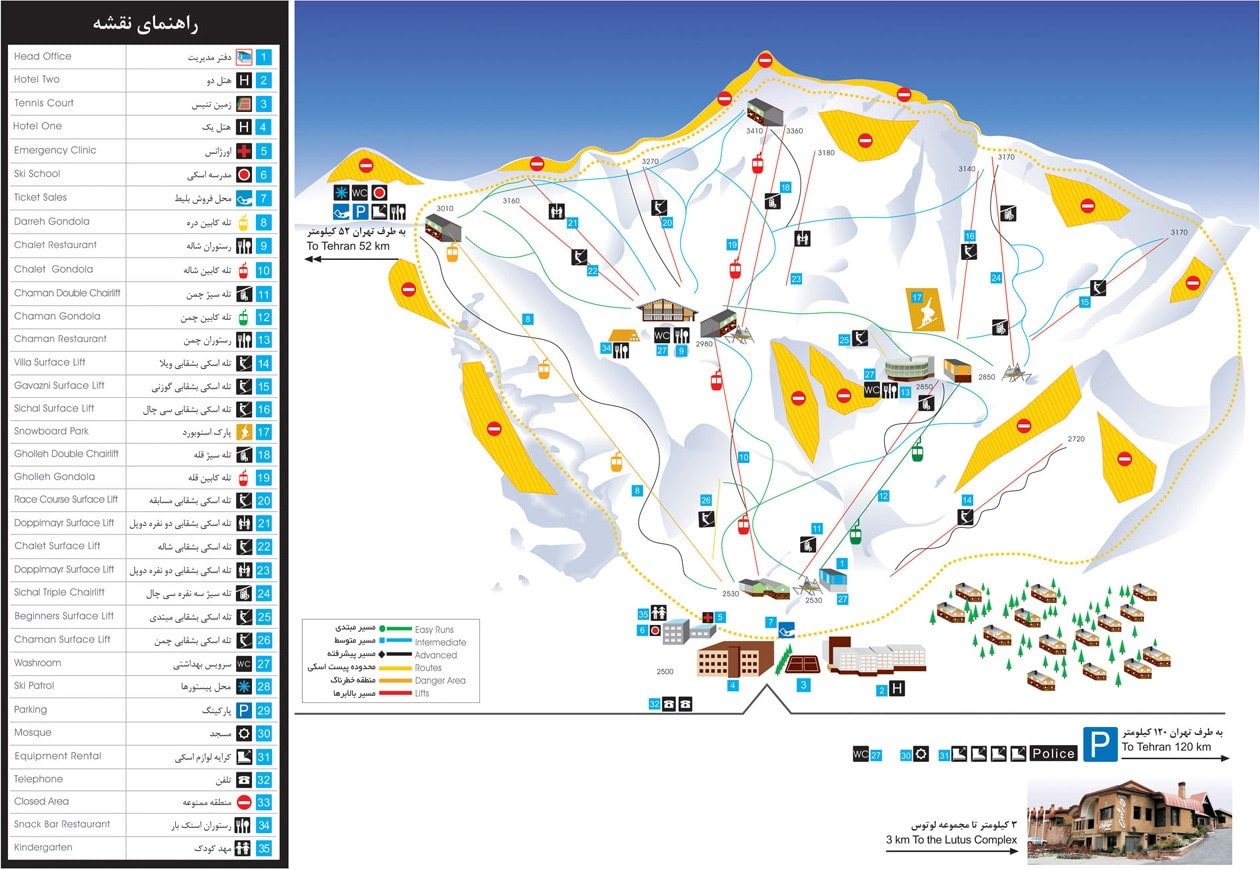 Guide map dizin skii roads
Dizin Ski Tour Package
There are also lots of other things you can do in Dizin. Iran ski tours usually include travel packages for both amateurs and professionals. You can make use of different types of discounts they provide and enjoy more while paying less. Usually, the discounts are given to groups of two or more, which means if you are coming alone, you are less likely to find good offers. Most of the iran tour packages you find include transportation straight from the hotel to Dizin and back. Most of them also do everything, from making reservations to providing rental equipment, for you at a reasonable price. It takes almost 3 hours from Tehran to Dizin, and it is better to make the trip with a group of expert tour guides who can make it a trip to remember.  If you intend to stay longer than just one or two days, you can also plan to take lessons. All types of equipment are also available for rent, as said earlier, and of very fine quality. Dizin is also a beautiful place to take wonderful pictures. When you are up in the air on the lifts you can capture fantastic frames from the surrounding landscape.
Check the weather beforehand
There is one last point that you should heed to it, however, which you should be cautious about. Due to dizin ski resort location, it has changeable and unpredictable weather. So, before your ski tour, you should be in touch with your tour operator to get informed about the weather and in case of an unexpected occurrence, your tour package operator does its best to cooperate with you based on terms and conditions.Of course, in case of emergency, all kinds of facilities and help is available, but it is always better to be careful, specifically in winters and the beginning of spring, when the weather is highly volatile and unpredictable. You would also well-advised to ask your agent about Dizin ski resort prices for the hotels and other facilities besides checking resort and hotel facilities.
In any case, you can rest assured that you will find Dizin as one of the finest ski resorts in the world, with very low prices compared to its European counterparts.