Who was Hafez?
Hafez is one of the greatest poets in the history of Persian literature. A Hafez anthology is found in any Iranian house. His legacy goes beyond the Persian language and borders of Iran to influence poets in all the other Persian-speaking countries. Translations of his work have always been popular among the readers, and some of the greatest minds of intellectual history fell under his influence. His tomb in Hafezieh welcomes hundreds of visitors every day. Iran tours feel incomplete without a visit to his tomb. In this article, we're going to take a peek into his life and work, and see what role he occupies in Persian culture.
1.Hafez Biography, one of the Greatest Persian Poets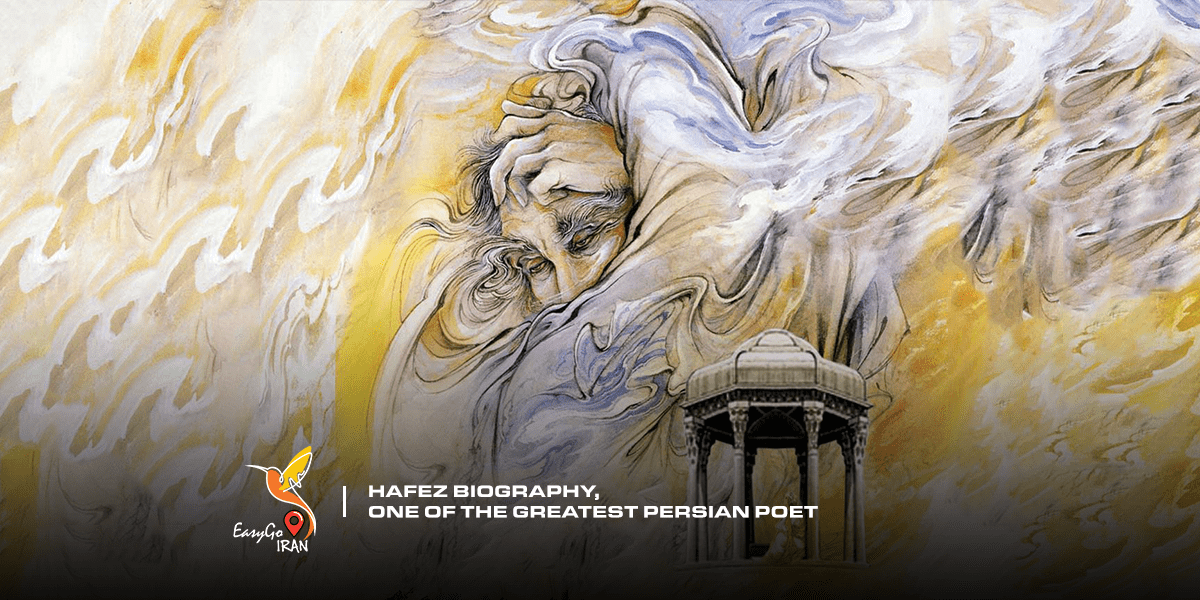 Hafezieh, where Hafez is now buried, hosts hundreds of visitors every day. Influential as he was, it is a weird thing that we don't know much about Hafez's life as one would expect. Few details of his life are available to us in history books and documents, and even fewer are reliable. And the knowledge about his education is limited only to Hafez's references in his poems and to the introduction that Muhammad Glendam eventually wrote on his book.
Hafez Occupation
He is known to have been an apprentice in a bakery in his teens and early twenties. He also worked as a copy-writer of manuscripts. It was a common job to do. Since printing machines were not available at the time, a way of preserving books was to write them by hand. Many people made good money doing that.
Hafez education
According to some sketches of his life, Hafez went to a school near the bakery in his spare time and learned to read and write there. According to the comprehensive introduction to the Divan, both Hafez and Mohamed Glendam attended classes taught by great masters. Glendam was a key person in gathering Hafez's poems and presenting them in the form we know today. In his poems, Hafez also mentions his education, forty years of study in science and literature, early morning lessons, and memorization of the Qur'an based on various versions.
The routs of Hafez Titles
His pen-name "Hafez" and some of the titles given to him, such as "Malek-al-Quran" (the king of the reciters) confirm the fact that he was really good at reading and reciting Qur'an. Hafez's fame was the reason why rulers of other towns and regions frequently invited him to their courts.
2. Hafez Legends
Legends about Hafez came into existence after his death around 1390. He died as a famous person with remarkable influence on Iranian culture and literature. One of the legends about Hafez was that he learned Quran by heart when he was a child. At the time, his father would recite verses from the Quran and Hafez would memorize all that by mere listening.
Another legend around his life goes like this: He meets Shakhe-Nabat, a woman of amazing beauty, and falls in love with her. Some of his poems are dedicated to her. This woman never returns Hafez's love, and that makes Hafez become more and more resolute on living a life of solitude.
3. Hafez Poetry
Hafez's poetry revolves around themes such as love, living a life of happiness, hope, and exposing hypocrisy. The latter is a central theme in his work because he believed many of the religious people of his age were, in fact, hypocrites. There are different characters in Hafez's poetry. Saghi (the wine-pourer) is a mystical figure who seems to have the solution to all pains and problems. Shakhe-Nabat is a woman the speaker loves and seeks her hand. Sheykh is usually a hypocrite figure who invites people to religious duty and piety, himself living a life of sin and pleasure.
Hafez's poem and Ghazal
Hafez's poems are in the form of Ghazal, which is similar to the sonnet. His poetry was not considered to be political at the time, but political overtones of his work became important after his death. A great souvenir of Iran for anyone interested in literature would be a collection of his works.
4. Hafez Fortunetelling
Fortunetelling may not be an exact word for "Fal". The Persians believed that Hafez is alive in his poems, and they can consult him on any issue in their lives. So, whenever they are not certain about a course of action, or just for the fun of it, they open the Divan and read the first poem that comes up. The interpretation of the poem is what they call "Fal". In fact, Fal is a hint about what will happen in the near future.
Hafez Fal in Nowruz and Yalda
nd on Yalda, two prominent Iranian occasions, the Persian gather together in family-and-friends circles to celebrate. An inseparable part of these celebrations is fortunetelling through Hafez's poems. The two occasions mark the beginning of spring and the beginning of winter, respectively. Spring itself signifies birth and becoming alive in Persian culture. All hope and light and happiness. Winter, on the other hand, signifies death and darkness. All fear and sadness. On both occasions, fortunetelling is performed to remind the Persian of the legendary presence of Hafez as a mentor who knows the ways of life.
The History of Hafez Fortunetelling
Fortunetelling started in the era of the Safavid Empire. By itself, it wasn't a new phenomenon. People would do that with the Quran and other esteemed books, but with Hafez, it was different. The speaker in Hafez's poems is more human, with all the imperfections we have. The fortunetelling is performed through three steps. First, you think of a question in your heart. Then, you call hafez and ask him to tell you the truth about the question. Finally, you open the Divan and read the first poem you see. That's the answer to your question.
5. Hafez and Iranian Music
Hundreds of Iranians visit Hafezieh every day. Hafez has left a huge impact on Iranian culture. Many great singers and musicians worked on his poems and produced remarkable works of art. Mohammadreza Shajarian, Homayun Shajarian, Mohsen Namjoo, and many other artists turned his poems into great music.
Other Influences of Hafez
Hafez-Pajoohi is another aspect of Hafez's influence on Iranian language and culture. The word means "researching into Hafez's works", and it is a discipline in which researchers of many disciplines are actively working.
There have also been many works of drama, both musical and non-musical, revolving Hafez's lives and works. A prominent example is Hafez's opera by Behrouz Gharibpour.
6. The Intellectual and Artistic Legacy
The intellectual and artistic legacy of Hafez has influenced many great artists and thinkers, both Iranian and non-Iranian. Western intellectuals such as Ralph Waldo Emerson, Lord Byron, Nietzsche, and Goethe are a few names among the greatest thinkers who have been under the influence of Hafez. In Iran, Houshang Ebtehaj who writes poems under the pen-name Sayeh (Shadow) has a style very close to that of Hafez. Many other poets in Iran have been under Hafez's influence in terms of both style and theme.
7. Where Is Hafezieh located?
Hafezieh is located in the north of Shiraz. Almost any Shiraz travel guide includes a visit to Hafezieh. This is a memorial erected in memory of Hafez's works and legacy. Many people visit this place every day. The tomb of Hafez is also located there. It's a beautiful garden with two main buildings. One of them is Hafez's tomb, which is similar to a sarcophagus.
8. History of Hafezieh
Abul-Qasim Babur Mirza, who was a Timurid governor, built a dome-like structure near Hafez's grave. This marks the beginning of several restorations and the making of Hafezieh. In the following centuries, Abbas I of Persia and Nadir Shah also worked on the restoration of this place. The Golgashte-Mosalla, which is the place the tomb is located, is 19000 square meters. It was also a very famous cemetery.
In 1773, Karim Khan Zand ordered a substantial memorial building. The memorial practically divided the garden into two parts. The cemetery was then situated at the back and the orange garden in the front.
Governors of Fars worked to restore the grave during the 1800s, and a wooden shrine was built around it in that century. In the present era, Andre Godard, a French archeologist, and architect designed the present buildings.
9. Architecture and Structure of Hafezieh
The present structure around Hafez's tomb is a pavilion with eight columns. Five small steps are around the pavilion so that the visitor could go up by taking small steps. This was meant to keep the peace of the person in the tomb because taking large, noisy steps might disturb his peace. Inside the pavilion, a sarcophagus-like tomb is seen. On this stone grave, there are verses of Hafez. Maybe when you're applying for an Iran visa this time, you should have to visit his tomb in mind.
10. Hafiezieh Architect
André Godard (21 January 1881 – 31 July 1965) was an archaeologist, architect, and historian of French and Middle Eastern Art, who worked as the director of the Iranian Archeological Service for many years. He designed many prominent buildings in Iran. National Museum of Iran is one of his memorable works, but he was also key in designing and building places such as Tehran Art University and Hafezieh, and in the restoring Sheykh Lotfollah Mosque and Iran-Shahr Garden of Yazd.
11. Our Suggestions around Hafezieh and in Shiraz
If you have Iran tailor-made tour you should consider that Shiraz usually, has three high-seasons. The first one is in the middle of Spring, May (Ordibehesht), and you can find everywhere colorful. The other one is in early Autumn, October, and November. It has its own unique landscapes. And the last one is the end of Winter, March. It would be a nice chance for Iran travelers to experience Spring at the end of Winter in beautiful Shiraz simultaneously.
The best places to eat in Shiraz
For sure one of the best parts of each trip is eating time. So, it would be wise to know the best restaurants before ahead. Shiraz as a big city has a lot of good restaurants but some of them are the bests. We can name, Haft Khan restaurant, Shandiz and Shater Abbas as famous good restaurants which are located at Quran Blvd. Also, the Pirouzi Tea House in the Vakil Bazaar would be a unique recommend for you. As it seems, its owner was a poet and he sticks all of his songs on the walls. It has a really friendly atmosphere.
Our kindly suggestions for your stay
Definitely discovering Shiraz needs more than one day. So, you should find a comfortable place to stay in. According to our long experience in this field, we can recommend you to some good and standards hotels in Shiraz such as the Shiraz Grand Hotel near Quran Gate which is the main entrance of the city, Chamran Hotel in Chaman Blvd. and Zandiye Hotel in Hejrat Blvd. But if you intend to stay near Hafezieh we can suggest you Perspolis Hotel and Park Saadi which are reasonable and standard hotels. Also for ancient Iran lovers who are interested in Boutique Hotels, Forough Boutique Hotel in Sang-e Siah St. (Heydar Baba Jan St.) would be a good suggestion.
Hafez is alive, and Hafezieh is where people from around the world gather to honor his presence. He is a crucial part of Persian culture, but his legacy goes beyond Iran's borders. Even if you have never read Hafez, chances are you have encountered his influence in the writings of other great thinkers. Next time you're browsing an Iran travel guide, make sure you don't miss a visit to Hafezieh.