Zoroastrianism goes way back in the history of monotheist religions. It was widespread in ancient Persia and still has its devoted followers. Fire temples, in particular, have been a huge tourist attraction. Almost any Yazd travel guide offers a visit to the Zoroastrian fire temple of Yazd. In this article, we're going to take a look at what Zoroastrianism is about and where we can go to see the fire temples.
Who was Zoroaster?
Zoroaster was the prophet of ancient Persia. He was a very influential person at the time he lived. Ironically, we are not sure about many stories related to him. His name, for example, could have many meanings. One of them is "son of the star." Again, we don't know the exact date of his birth. Estimates say somewhere between 600 and 1200 BC. But such an extensive range is quite useless if we want to contextualize his historical influence.
History and religion of Zoroaster and Zoroastrianism
Zoroaster revised the Old Religion in ancient Persia. His religion is called "Mazdayasna", which actually means something like "the believer in Ahura Mazda".
Nobody can be sure that in the Achaemenid period Zoroastrianism was dominant as a religion. In fact, we don't know much about Zoroastrianism before the Parthian period.
In the Parthian period, however, people took Zoroastrianism as their religion. They created coins in the names of gods. They also built a few fire temples here and there.
Zoroastrianism and the Sassanid era
Then, in the Sassanid era, Zoroastrianism went through a Renaissance. In that period, it became the official religion of the Iranian people. The number of followers of Zoroastrianism in the Sassanid era was apparently way more than it was ever before.
Zoroastrianism in the Safavid era
In the Safavid era, Zoroastrianism went through a period of downfall. Many of the followers of Zoroastrianism forcibly turned to Islam. Many of them escaped to other towns and countries in order to be safe from the government. Nowadays, compared to other religions, Zoroastrianism has fewer followers.
Why fire?
The fire has a central role in Zoroastrian belief. It is a symbol of light and truth, a guide to travelers and a shield against demons of darkness. It is elemental to being. Zoroastrian stories have it that when Zoroaster was born, a fire was lit in the fireplace of the people who disliked his mother.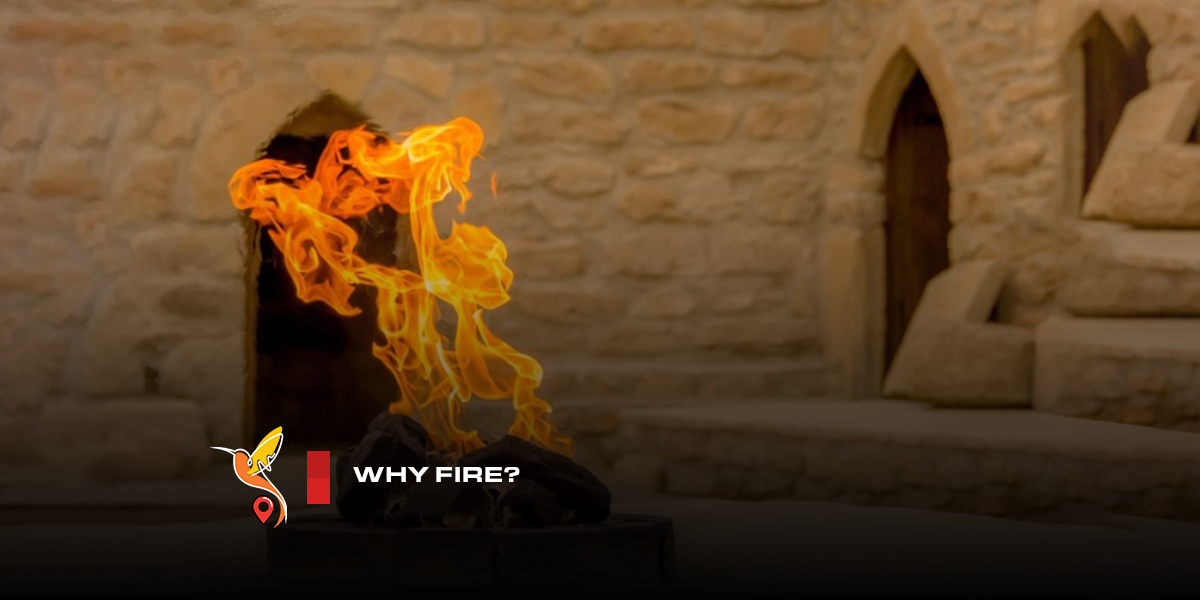 Fire, of course, was important to the Persian even before Zoroaster. However, after the emergence of Zoroastrianism, fire became significantly important and central to their belief system. In Avesta, sometimes fire is the Son of Ahura Mazda.
Fire is the mediator of creation. In Zoroastrianism, fire is so sacred that you don't have the right to pollute it or offend it in any way.
Different Types of the Fire
There are also fires that are not visible to our eyes. These fires are the source of light in our world and we can only see their lights. One of them is the fire that is lit in front of Ahura Mazda. Another one is the fire that is inside our bodies and other living animals, which is somehow equal to our instincts. Still another one is the fire that gives life to the plants. Another one is the fire Inside the clouds which actually causes the thunder. Another one is the fire which is related to families and keeps the relationships between the members of the family warm, balanced, and stable.
Even today, Iranian people hold fire festivals such as Charshanbe Soori. To the young generation of today, it is not sacred or religious. But it's still important from a cultural point of view.
What is the origin of the Zoroastrian fire temple or Atashkade?
Fire temples are places of worship in Zoroastrianism. Moreover, people keep the fire inside the fire temple going forever, never letting it get extinguished. These fire-keepers are priests of the Zoroastrian religion. The oldest fire temple, which is in Sistan, goes back to the 4th century BC. It is interesting to know that people built this fire temples according to the level of importance of the fire.
Zoroastrian religious ritual in fire temples
When people arrive at the sacred fire, they offer some fine-smelling wood to it (such as Sandal or other types of wood). This is based on the teachings of Vendidad, Yasna, and Yasht. In these, we learn which fuels are appropriate with regards to the sanctity of fire, and which are not.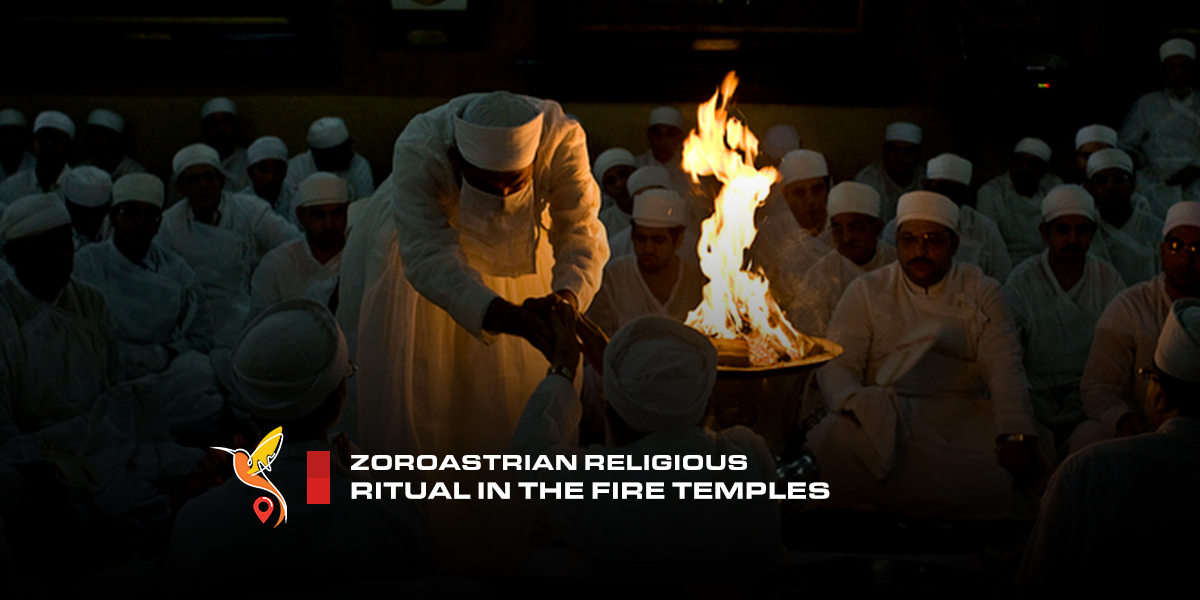 Today, of course, this is not done directly. Rather, people give the priest whatever they want to offer, and the priest does the offering.
Zoroastrian ceremonies in fire temples
In Zoroastrian religious symbolism, fire stands for truth and light. People performed many ceremonies and rituals in fire temples. Nowadays, people hold few or no ceremonies in the fire temples.
Iran fire temples
Many fire temples are in different cities in Iran. They are mostly in southern central parts. When you are considering applying for your Iran visa, you might want to see some of these fire temples. Here is a list of some important Zoroastrian temples:
1- Yazd Zoroastrian fire temple
Yazd Zoroastrian fire temple is one of the most important ones in Iran. It goes back to 470 AD. The amazing thing about it is that the fire inside it has been lit for almost 2000 years. It is situated in Yazd, to the east of Shiraz.
The Structure Of Yazd Fire Temple
Around this fire temple, there is a garden with a lot of fruit trees. You can see the Achaemenid architecture style in the form of the building. Upon the entrance, the columns will catch your eye, and then the bas-relief of Ahura Mazda deity on the head of the entrance. Like other fire temples, Zoroastrians keep the fire behind a glass enclosure.
Yazd also has great hotels since it has always been a great tourist attraction. Staying in Yazd hotels will be a great experience.
2- Isfahan fire temple
This fire temple is 8 km away from Isfahan city center. It goes back to the Sassanid era. It also has a specific name in Isfahan: Char Taq (four arches) which refers to its particular shape. Around it, there are remainings of other Cahr Taqs and other buildings.
3- Niasar fire temple
Niasar fire temple is 20km away from the southwest of Kashan. This is also in the form of a Char Taq. The interesting thing about it is that in each season of the year, you can see the dawning and setting of the sun in one of the holes. People used this Zoroastrian fire temple as a calendar. During your Iran cultural tours to Kashan or Isfahan, you can pay a visit to this fire temple and explore more about it.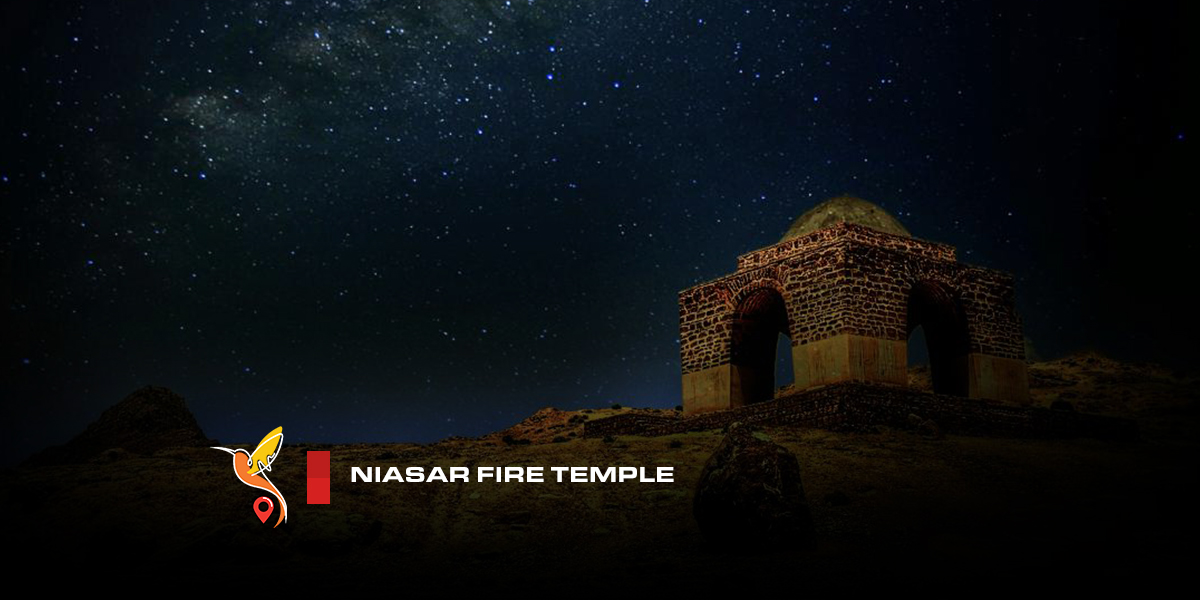 4- The fire temple of Zoroastrian in Kerman
This is one of the National Sites of Iran. The Zoroastrian fire temple in Kerman belongs to the first Pahlavi era. Kerman has many tourist attractions and many travelers are interested in seeing them. However, the fire temple might be overshadowed by other tourist attractions. Make sure you don't miss this one when in Kerman.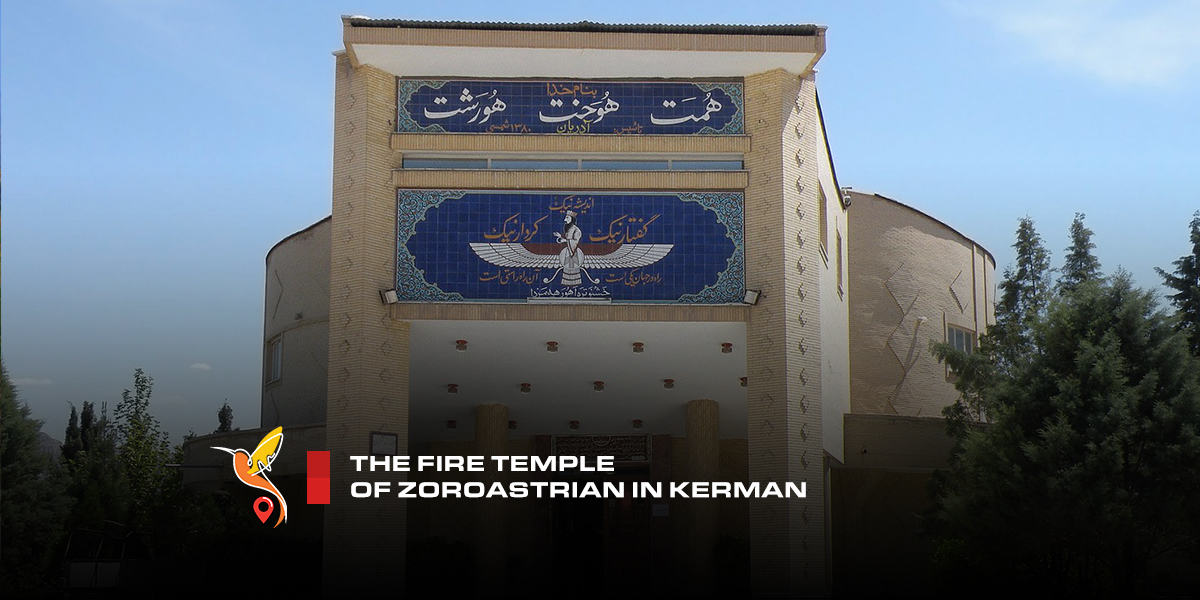 5- Takht-e Suleyman fire temple
Takht-e Suleyman was of paramount importance before the emergence of Islam. This place was the hub of most cultural and economic activities of the time. Azargoshasb fire temple (also known as Takht-e Suleyman Zoroastrian fire temple) is a tourist attraction of this place, which is in Western Azerbaijan.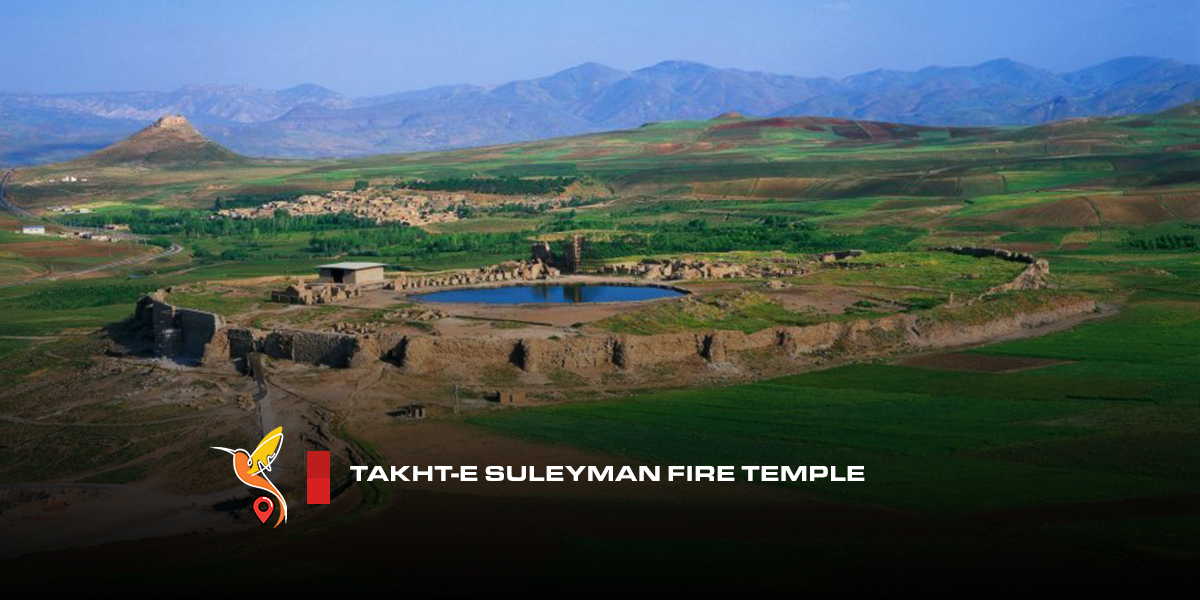 6- Chak Chak temple
Chak Chak Zoroastrian fire temple is near Ardakan. It is also famous as Pire Sabz (the Green Pir). This is one of the most important fire temples for Zoroastrian pious people. Thousands of Zoroastrians pay pilgrimage to this place every year. They believe when they see the temple for the first time, they should stop and finish their journey on foot.
Chak Chak Temple Legend
The name is an imitation of the sound of falling water drops. There is this strange spring in the place which is the source of the dripping sound. The story behind this temple is very interesting.
Yazdgerd III had a daughter, Nikbanou. During the Arab invasion, Arab soldiers cornered Nikbanou near the mountain. She prayed to Ahura Mazda to be safe from the enemies. The mountain miraculously opened and pulled her in. Ever since this happened, Zoroastrians believe that the drops are the tears of Nikbanou.
7- Tehran fire temple
Tehran fire temple is the only Zoroastrian place of worship in Tehran. It belongs to the Qajar period when Arbab Keykhosro started to build it, later to be finished by the Zoroastrian followers' financial aids. Iran tour packages always contain a tour of Tehran. Since this temple is in a famous tourist attraction known as the Intersection of Religions, you can easily pay a visit when you are traveling to Iran.
Fire occupies a significant and central place in the Zoroastrian belief system. Tailor-made tours in Iran could be a great option to go and see the Zoroastrian fire temples all over Iran. Next time you are going to Iran, don't miss the everlasting fires of the Zoroastrian temples.